LIME AND THYME PORK CHOPS WITH CRISPY POTATO CROQUETTES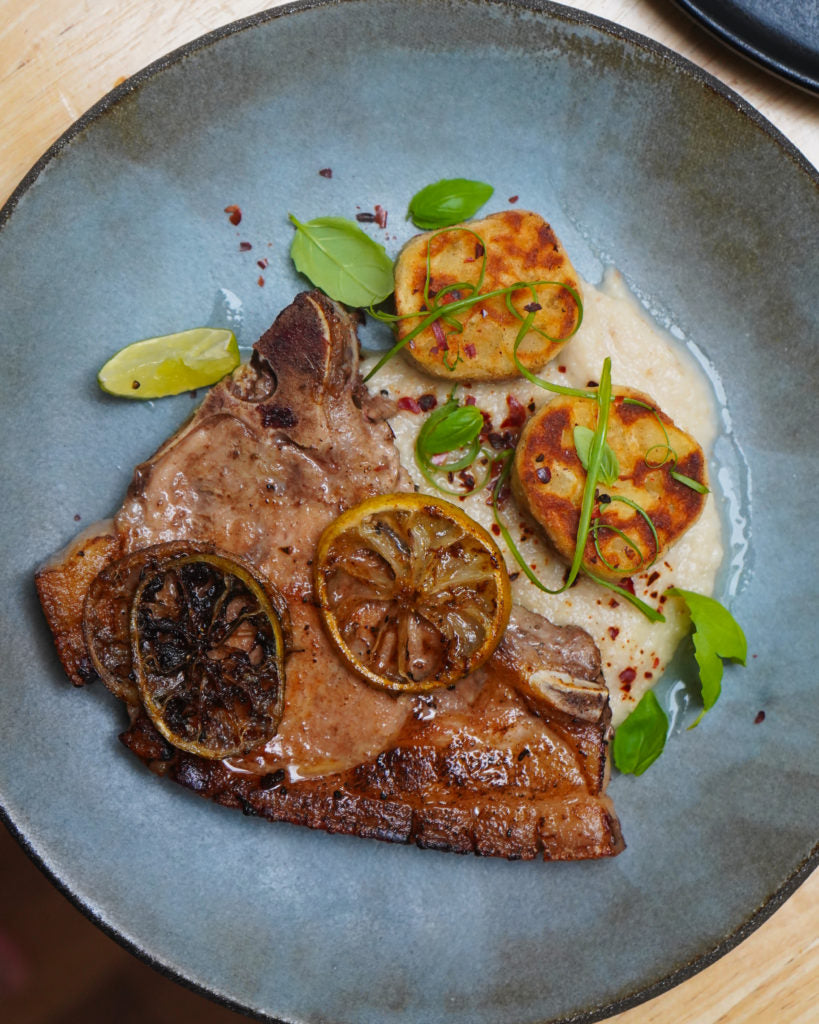 This hearty meal is bursting with summer flavors everyone will enjoy! Crunchy, tender, and bright—need we say more?
INGREDIENTS FOR THE PORK CHOPS
2 sprigs of thyme per chop
1 clove of garlic per chop
2 lime discs per chop
salt & pepper to taste
1/4 cup of olive oil
---
INGREDIENTS FOR THE CROQUETTES
½ cup cornflour
¼ cup flour for rolling croquettes
2 eggs
½ tsp smoked paprika
salt & pepper to taste
olive oil or butter for crisping croquettes on the griddle
---
INGREDIENTS FOR THE PUREE
1 large root veggie, like a carrot or parsnip
¾ cup of milk
4 tbsp butter
salt & white pepper to taste 
3/4 oz lemon juice
---
METHODS: MARINATE OR SOUS VIDE – CHOOSE YOUR OWN ADVENTURE!
Marinating:
Finely mince the garlic and strip the leaves off the thyme. Rub the thyme and garlic into the pork chops, then squeeze on half a lime. Put in a bowl and allow to marinate for 2-3 hours in the fridge.
Sous Vide:
Dry the pork chops, salt & pepper each chop well, place two slices of lime on top and thyme sprigs on the bottom. Bag them up, follow it up with a crushed and peeled clove of garlic per chop. Into the sous vide at 54°C/130°F for two-five hours. This temperature leaves it fairly rare, this is so we can get a wicked crust on the griddle. When it comes out of the bag, discard the thyme. 
When your method is complete, oil up the griddle on high heat for the sous vide, or medium heat for the marinated chops. In both cases, pat the marinated chops dry with a paper towel. Toss them on the griddle. For the sous vide chops, griddle on high heat in a generous amount of oil for about one minute per side, then crisp up the fat by propping them up on their sides. For the marinated chops, cook on medium, and (assuming about a one-inch thick chop), cook as you would a steak. Flip them once every minute (about 4 minutes per side) and then crisp up the fat by propping them up on the griddle. Rest for five minutes under a tinfoil tent.
---
CROQUETTES
Roughly chop the spuds (skin on or off — dealer's choice!) and boil them in cold, salted water until fork-tender. Drain, and allow them to steam-dry. Roughly mash the potatoes. Allow them to cool all the way.
Once cool, add a few good grinds of black pepper and about half a teaspoon of smoked paprika. Crack in the eggs and mix them in well. Add cornflour a teaspoon at a time until it starts to hold its shape when formed. Tip dough out onto a floured surface, then roll it into a log, about 5-6cm in diameter. Make sure the dough is well floured. Then with a sharp knife, cut the potato mixture into little rounds, about an inch thick. Dust each side with cornflour. 
These can now go on the griddle, medium heat, with some olive oil, or, if you're feeling groovy, BUTTER. Griddle them up until they're golden brown on each side, then get them all golden on the sides too. Salt them to your liking.
---
PUREE
Do this with carrot, turnip, or any other low-starch root vegetable you enjoy! Peel and roughly chop your veggie of choice. Boil in salted water until super tender. When it's done, strain out the water and let it steam dry (about 3-4 minutes). In a separate pot, add about 4 Tbsp of butter and bring it slowly to a temperature where it begins to change color. Swirl it around in the pot, and when it's an even brown, take it off the heat and squeeze in the lemon juice. Add your cooked veggie, toss it around and then get in there with an immersion blender, or transfer to a food processor and blend until smooth. To help it along, slowly add milk until the mixture is quite loose. Transfer back to the pot if you've used a food processor, and turn to low heat and bring to a simmer. Add salt and white pepper to taste. 
---
TIMING TIPS
Start with the meat in either scenario (sous vide or marinade)
That can be brought up to temperature once the croquettes and pork chops are on the griddle. While your veggie is boiling, get the croquettes made up and ready to go on the griddle.
Croquettes go on the griddle first. Get them all sizzling away, then on the other side of your griddle, start on the pork chops. They should come off around about the same time at that point, but no stress if not – move the croquettes to a cooler part of the griddle near the back to stay nice and toasty.  
---
We hope you enjoy this as much as we did! Share your Razor Griddle skills on Instagram & Facebook and be sure to tag us for a feature!
Griddle on, friends!
---