A SWEET, SPICY, AND SIZZLING CHRISTMAS BREAKFAST RECIPE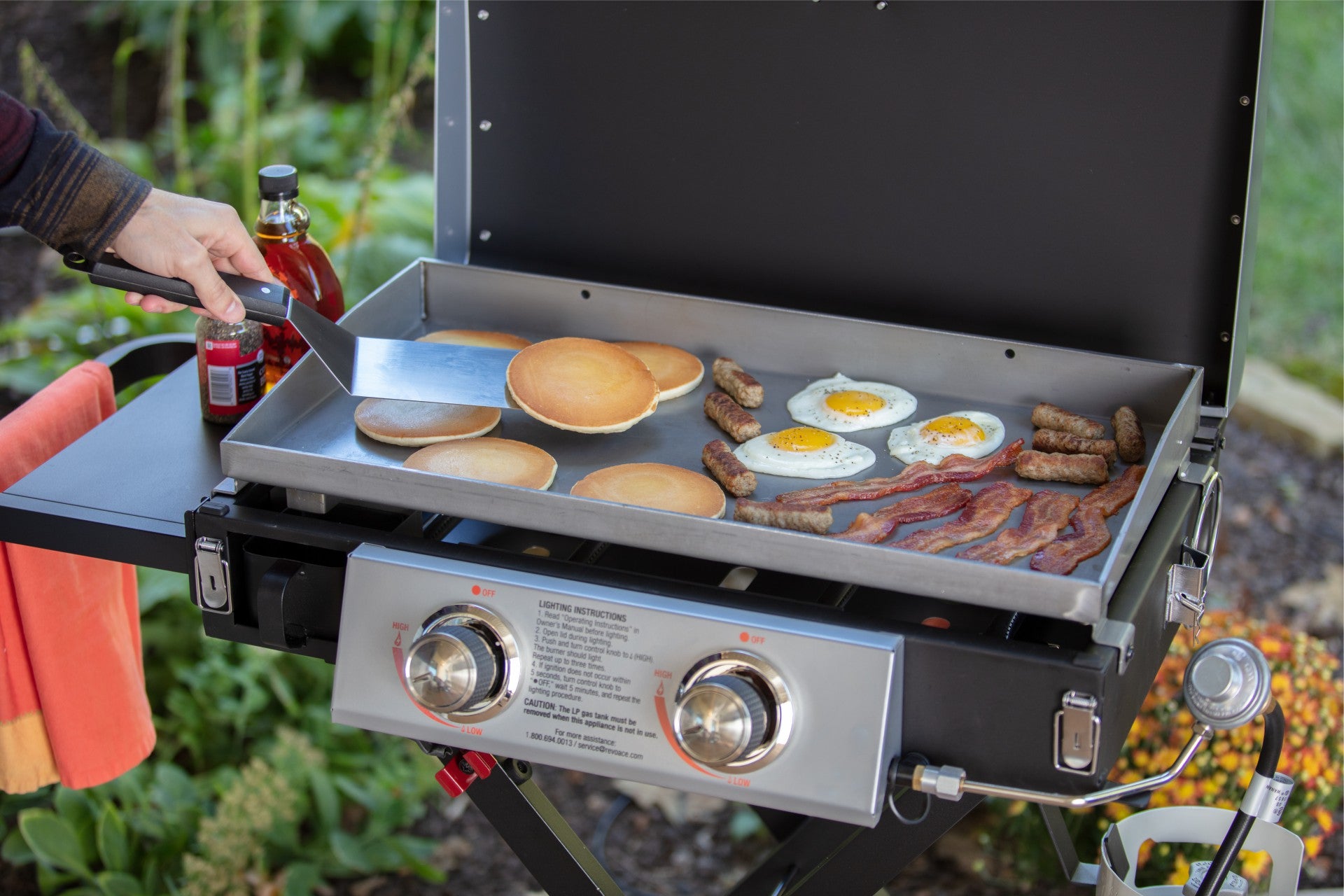 START THE HOLIDAY RIGHT WITH A RAZOR GRIDDLE BREAKFAST THAT SATISFIES EVERYBODY
We've put together a quick, fulfilling Christmas morning breakfast that everyone will love. Best thing is, you can cook it all on your Razor Griddle while you enjoy a crisp winter morning and a hot cider. You'll be like the Santa Claus of meals.
Gather your griddle helpers!  For this feast, we suggest eggs, bacon, and pancakes (the star of this show). 
Heat up the griddle and start the meat, take a poll on how everyone wants their eggs, and whip up the pancakes. (Grab a sip of your warm cider and let's do this.)
GINGERBREAD PANCAKES
This taste-like-cookies pancake recipe yields enough for 10 pancakes. (Maybe less if your teenagers or college students are up in time for breakfast.) Just go ahead and double the recipe. Trust us, they're a hit. 
Ingredients
1 ½ cups all-purpose flour 
1 tsp baking powder
¼ tsp baking soda
¼ tsp salt
¼ tsp ground dried allspice
¼ tsp ground dried nutmeg
½ teaspoon ground dried ginger
1 teaspoon ground cinnamon
1 egg
½ teaspoon vanilla extract
¼ cup molasses
1 ½ cups water
(Another sip of your hot cider. Smile. You made it this far.)
Make sure the griddle is nice and hot
Whisk the flour, baking powder, baking soda, salt, ginger, allspice, nutmeg, and cinnamon in a medium bowl 
In a large mixing bowl, beat the egg(s) with the vanilla and molasses until smooth
Whisk in the water until completely incorporated
Stir the flour mixture into the molasses mixture just until combined (no hockey-pucks here!)
Lightly oil your griddle and drop large spoonfuls of batter onto the griddle
Cook until bubbles form and the edges are dry, flipping to brown them on both sides — the griddle works fast, so once you see bubbles, have that spatula ready
 Serve fresh off the griddle and watch the smiles spread 
Razor Griddle is dedicated to providing you with the best, most versatile cooking machine. Whether you're a one-, two-, or four-burner family, we're grateful to have you as part of the Griddle Gang! 
---