FLAT IRON STEAK, PINEAPPLE SALSA, AND MUSTARD POTATOES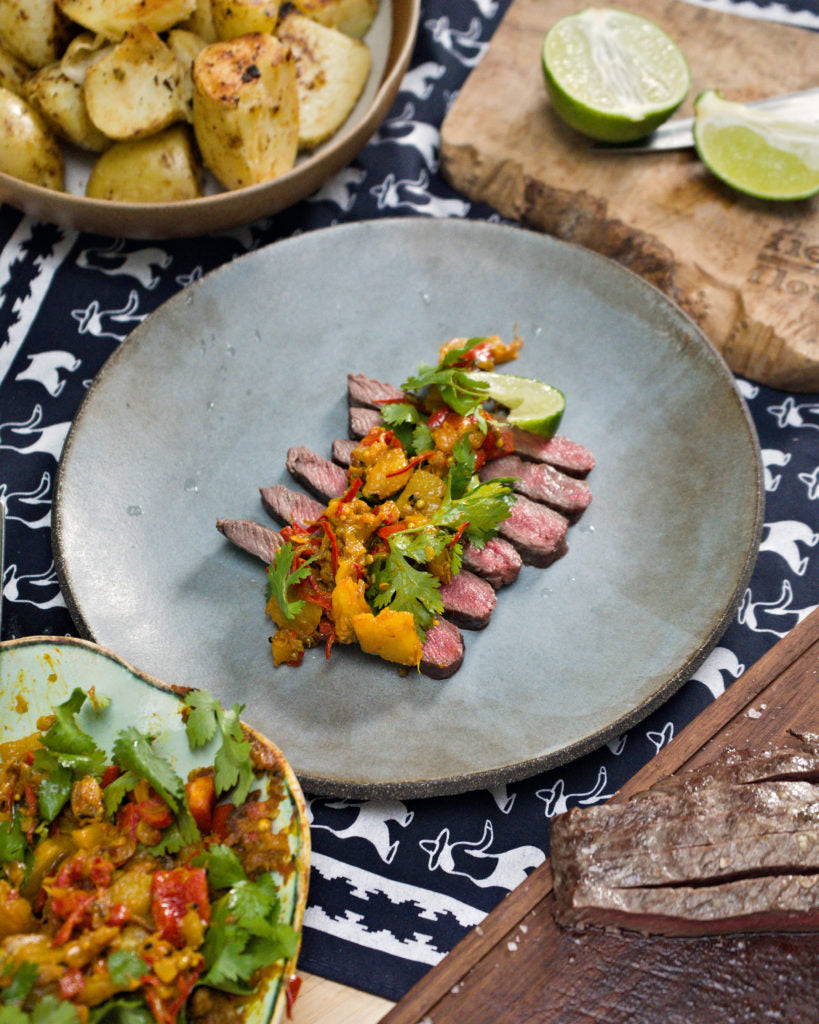 Here's a recipe that's got some serious attitude— take your steak in a different direction from the norm this summer. What's more, this salsa is a useful thing to add to a variety of meats and is a great "foundation" recipe. Switch things up and make it your own! I've gone with a sub-continental tilt here, but you can take many different herb and spice combinations using the format of: a caramelized sweet element, sour, with a herb/spice blend on an onion and garlic base.
Using the griddle gives you that cook-surface real estate to make a massive difference!
---
Ingredients
Flat Iron Steak x2 (or other steak you've got. I love flat iron: cheap, lean, tender: the holy grail)
Olive Oil
Salt
Pepper
For the Pineapple Salsa (Sort of not a salsa, more like a riff on an "achar")
⅓ Pineapple, Skinned, Cored, Roughly diced
1 Lime
1 Orange
½ Red Onion finely sliced, then chopped. 
Four Cloves of garlic, roughly chopped
1 Inch Ginger, grated.
1 Chili (more or less depending on your heat tolerance)
A bunch of coriander – leaves removed and stems minced
1 Red Bell Pepper
1 Tsp White Pepper
1 ½ Tsp Turmeric
1 Tsp Coriander Seeds
2 Tsp Chilli Powder
½ Tsp Onion Seeds
1 ½ Tsp Yellow Mustard Seeds
6-7 Cardamom Pods, crushed with the butt of the knife (Make sure you know exactly how many!)
Salt
Oil
For the Potatoes (anything that roasts well belongs here)
1.5 Pounds of White Potato
2 Tbsp Wholegrain English Mustard
Butter
Olive Oil
Salt
---
Method
For the Salsa:
I used a two-burner griddle for this recipe – preheat one side to a low-medium temperature – hot, but not smoking. 
In a bowl, mix together the onion, chilli, ginger, garlic and coriander stems until well combined. Add a dollop of oil to the griddle, and follow it up with the mixture – give it a little sizzle, keep moving it around as to keep the caramelization nice and even.
Mix together all the spices- White Pepper, Turmeric, Coriander Seeds, Chilli Powder, Onion Seeds, Yellow Mustard Seeds, 6-7 Cardamom Pods – important – count the Cardamom Pods! Later you'll be hunting these down – biting down on one of these suckers in the middle of your steak is a nose clearing event we don't want.
Lower the temperature on the burner you're using to just above the lowest setting, add another small lug of oil, then add the spice mix. Incorporate it well, and toast those spices on the griddle until they really start to get nice and fragrant. Next, add the pineapple and bell pepper. Increase the heat to a medium temperature, and mix it in well. Here's where you can use the griddle space to your advantage – spread it out, let everything get a nice good caramelization! I did this for about 15 minutes. Spread it out, bring it back together, repeat!
Keep cooking until it starts to get nice and sticky, then squeeze in the juice of half an orange. Mix that in too. Reduce the heat, and let it stew away for another five minutes, before transferring the mixture to a bowl. Later, we'll mix through fresh coriander leaves and squeeze in some tart lime for serving. 
---
For the Potatoes:
Chop the potatoes into chunks (I did mine in with medium size potatoes in quarters) . Bring a large well salted pot of water to a rolling boil, then add the potatoes. Boil them for 8-10 minutes, then strain and allow to steam dry in a colander. 
Here there are two ways to go about frying them up. Preheat the griddle to medium-high. Add a lug of oil and get it smoking. 
First option: In a large bowl, add 30-40 grams of butter, a tablespoon of wholegrain mustard, a few grinds of pepper. Shake it up so the butter melts and the potato fluffs up slightly. From there, on the preheated griddle, add the potatoes, and turn every few minutes until they are cooked, the mustard has crisped itself in and the butter has burned slightly, giving the potatoes a delicious crisp.
Second Option. Melt the butter into the griddle, tip the potatoes on, add the mustard, and a drizzle of oil. Season on the griddle with salt and pepper, and turn consistently. This won't be as uniformly crisp, but it does give you more textural variety, as well as flavour because the mustard isn't mixed in as well. 
---
For the Steak:
Steak should be out of the fridge at least an hour before cooking. Dry the steak with a paper towel, then salt with flakey sea salt on both sides. Put on a grill rack, allow the osmosis to kick in for about 20 minutes (the salt will dissolve slightly), then pat dry again. I do this to remove the top moisture layer and give the steak a nice crust. 
The griddle should be on medium-high heat (I used the side of the griddle that had the salsa – I deglazed to get rid of excess salsa). Oil on the griddle – a gentle smoke is a good indicator. Steak goes on. I do my steaks at 2-3 minutes a side with 3-4 minutes of rest under a tinfoil tent. Other options which I haven't done here: a bit of butter in some tinfoil on the griddle, let it melt, baste the steak while it sizzles away with a basting brush. 
I'm a fan of peppering afterwards too, though this shouldn't need it – the salsa will have some heat.
---
To Serve:
After resting the steak, slice it, and plate it up. Mix fresh coriander leaves into the salsa. Add the sweet and spicy salsa atop the steak, potatoes on the side. 
Enjoy!
— Chef Caster 
---